New York Apostille Agent Harry Otto explains the maze that confuses almost everyone when attempting to obtain an Apostille on a New York City based birth (or death) record.
NOTE: THIS APPLIES TO NYC DEATH CERTIFICATES AS WELL!
New York City has the most difficult and confusing rules regarding obtaining an Apostille on an original birth certificate issued from any of the five boroughs. The five boroughs of New York City include New York City itself, which is considered New York County, along with the other four counties:

Bronx County – The Bronx
Richmond County – Staten Island
Kings County – Brooklyn
Queens County – Queens

Luckily, unlike the other 57 counties in New York State, the New York County Clerk at 60 Centre Street in downtown Manhattan Authenticates official records for the other 4 counties as well.
Now unlike the rest of New York State, where most any birth certificate issued within the last 10 years could just be taken to the county clerk, where the issuing city, town, or village is located, and be Authenticated, New York City not only requires a certain type of birth certificate, report referred to as a long form, or what is also known as the vault copy birth certificate. Let's quickly discuss the two types of birth certificates that are found in New York City.
The NYC Short Form Birth Certificate.
The New York City short form birth certificate contains the minimum amount of information required to prove where and when someone was born. It is acceptable for use in most domestic identification transactions, such as attaining a driver's license, or non-driver ID card, your first employment, in instances where "double age verification" is required and passport applications. The short form birth certificate cannot be Authenticated and it's not available with Exemplification which we will cover in the moment. As can be seen below, the short form birth certificate from New York City is limited, and the information barely even contains the name of the hospital that performed the birth, the reasoning is that an entity such as the DMV, doesn't need to know this information.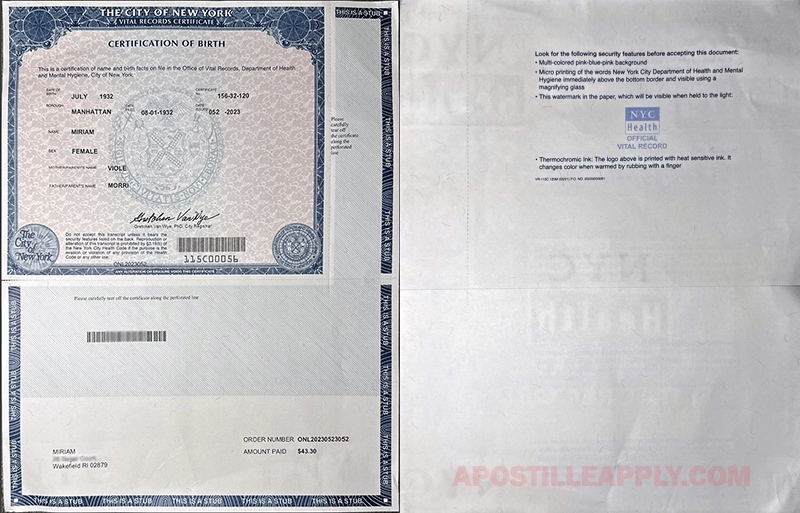 The NYC Long Form Birth Certificate.
The longform birth certificate is also known as a "vault copy". The reason for this is because it contains information that is private in nature, outside the scope of simply verifying the name and date of birth. For example, you will sometimes see the mother's information regarding employment and place of birth, which would be essential information if someone was, for example, applying for dual citizenship by lineage in another country.
The long form birth certificate vault copy can be obtained from the New York City Department of Health and Vital Statistics, or from ordering online through vitalcheck.com. When ordering from New York City or through vitalcheck.com there is always an option of "standard" long-form or "with Exemplification" or "for international use".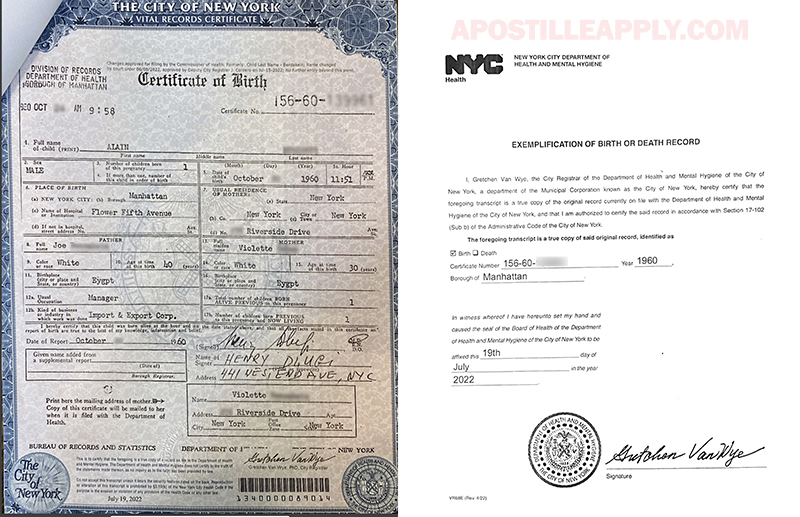 The NYC Exemplification Process.
To have a birth certificate "Authenticated", the court clerk requires an Exemplification page. This is always an issue of confusion, because this page can't be added. Even if you have a newly issued birth record, fresh from vitalchek.com, it doesn't qualify for Authentication, much less an apostille, if you didn't specifically order as "long form Exemplified" for apostille or international use.
What About Rush Same Day Processing?
If you are the person named or the parent, you can obtain the Exemplified birth certificate. If you are in another country or state, Harry Otto and his expediters can acquire the birth certificate for you by FedExing a very specific notarized Power of Attorney, along with your debit/credit card that New York City will use for payment. New York City acknowledges the need for rush processing but wants to ensure that the correct person is requesting the document.
For an Exemplified death certificate, you'll need to be the next of kin. New York City is extremely strict with these documents but will also allow the funeral home to obtain the death certificate within 6 months of the date of death.
VitalChek Birth Certificate Order
VitalChek Death Certificate Order
NYC In-Person Order Info
Begin Apostille Order

Questions? Text, WhatsApp or call Harry Otto at 01(914)441-2444