---
New York City birth certificates are more difficult to apostille than in any of the 50 states. This is because there are 4 steps to the process:
Your birth certificate needs to be exemplified, and if you're reading this article chances are yours is not. This is a crucial step in the process.
It needs to be authenticated by the New York County Clerk.
It needs to be sent to Albany for the Apostille.
If you're in a hurry, handling this process on your own can be quite challenging. As of this writing, you can expect the following timeframes:
Ordering your exemplified birth document with exemplification from vitalchek.com – 2 weeks
Mailing your documents to the County Clerk – 8 weeks
Mailing your documents to Albany for Apostille processing – 4 weeks
I'm going to break each one of these down and explain how the process may differ between working remotely versus locally.
---
The New York City Exemplified Birth Certificate:
Obtaining an Exemplified Birth Certificate in New York City:
The New York City birth certificate process is particularly complex. When you're born, the hospital acts as an intermediary and handles the process of ordering the birth certificate. However, due to the heightened security standards for birth certificates, intermediaries are no longer allowed in the process. The exemplification document that was issued at the same time as the birth certificate indicates that the document originated at the New York City Department of Health and not a local hospital. This step takes approximately the same amount of time, whether you're located locally or in California.
---
The Authentication Process: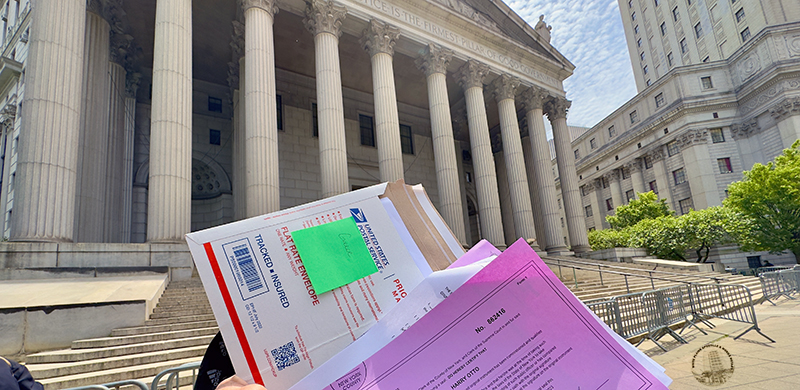 The authentication of your exemplified birth certificate is a different matter altogether. This process can only be performed at the New York County Clerk located at 60 Centre Street in downtown Manhattan. Whether you were born in Staten Island, The Bronx, Queens, or Brooklyn, this is the only clerk that authenticates exemplified birth certificates. You can walk in without an appointment any day, except Wednesdays, between 8:30 AM to 12:30 PM and 2:00 PM to 4:00 PM. If you're not local, it's an issue. You'll need to mail them your documents with a money order for $3 and include a self-addressed envelope. Excluding return mailing, the processing time is approximately 8 weeks.
---
The Apostille Process:
With very few exceptions, all apostille applications must be mailed directly to Albany and typically take just under four weeks. The process is fairly straightforward. You don't need to fill out a standard application form, but be sure to enclose a $10 check and include a return postage-paid envelope.